James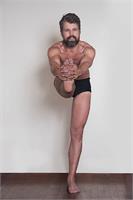 James began practicing Bikram Yoga in 2005 hoping to find a way to better manage his weight. What he found was a practice that not only improved his waistline but also helped manage chronic pain, increased his self confidence and overall determination, helped him manage stress, and always left him feeling better afterwards than when he started. After 11 years of enjoying both the physical and mental benefits of Bikram Yoga, James attended Bikram Teacher Training in Spring 2016 and is enthusiastic to begin his teaching career with Bikram Yoga West Loop so as to help others realize the potential of this tremendous practice.
James instructs the following:
Classic Bikram's Beginners' Hot Yoga class comprised of 26 postures 2 and breathing exercises practiced in a room heated up to 105 degree Fahrenheit with 40% humidity. The best workout on planet for sure and without a doubt. Suitable for all levels of practitioners. Beginners friendly.




Inferno Hot Pilates is high intensity interval training (HIIT) using pilates techniques in a hot room. The class focuses on form and control to create long, lean muscle mass. It then combines the Tabata principle of high intensity intervals followed by periods of rest to create an after burn effect that increases your metabolism long after the class has finished. Students will get a full body workout beginning with core work and eventually incorporating a cardiovascular, lower body and upper body focus.