Justina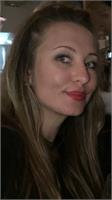 Justina possesses tremendous energy, excitement and passion for Yoga and Pilates. Trained in several disciplines related to health and fitness, Justina's Hot Pilates class is an experience in its own right. Try and see for yourself.
Apart from teaching Pilates and practicing Bikram and Pilates, Justina is also an avid traveler, designer and animal lover.
When she is not teaching, traveling or raising the human conscience to the next level, she can be found tending to the care of her beloved kitty Brownie.
Justina instructs the following:
Inferno Hot Pilates is high intensity interval training (HIIT) using pilates techniques in a hot room. The class focuses on form and control to create long, lean muscle mass. It then combines the Tabata principle of high intensity intervals followed by periods of rest to create an after burn effect that increases your metabolism long after the class has finished. Students will get a full body workout beginning with core work and eventually incorporating a cardiovascular, lower body and upper body focus.